Global Innovation Index 2022 – Israel ranked #16, the highest in the region
February 8, 2023
Posted by:

guyadmin

Category:

IoT & Smart Cities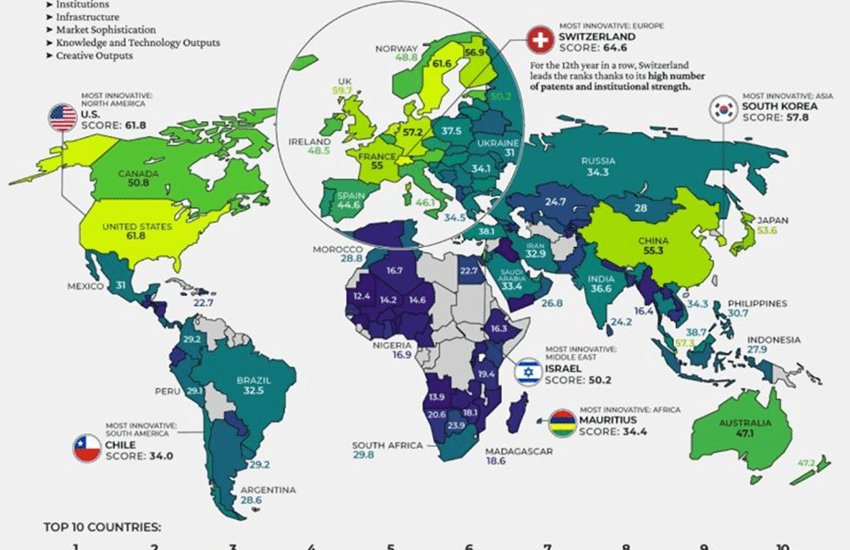 In assessing the most innovative countries, the United Nation's WIPO Global Innovation Index looks at 81 indicators across seven categories: Business Sophistication, Market Sophistication, Infrastructure, Human Capital & Research, Institutions, Political stability and safety and Creative Outputs.
Switzerland ranks at the top⁠ for the 12th year in a row! The country's intellectual property rules are
considered world-class, and they are complemented by strong collaboration between universities and
industry. In addition, the country attracts top talent thanks to its high quality of living.
At second is the United States, which is a top spender on R&D at over $700 billion per year.
Globally, four of the five top R&D spending companies are in America: Amazon ($42.7 billion),
Alphabet ($27.6 billion), Microsoft ($19.3 billion), and Apple ($18.8 billion).
As for Israel it was said in the report:
"As the highest ranked in the region, Israel (#16) is the sole country globally that spends  over 5% of GDB on R&D. Overall, it is a global leader in patent applications and information and communications technology (ICT) services exports."
For context, Israel's density of start-ups per capita is 16 times that of Europe.
---
Sources:
https://www.wipo.int/edocs/pubdocs/en/wipo-pub-2000-2022-en-main-report-global-innovation-index-2022-15th-edition.pdf