Countries increase water tariffs to reduce water use, Cape Town leads with 390%
October 15, 2018
Posted by:

guyadmin

Category:

Energy & Water Management
A new report by the Global Water Intelligence shows that Cape Town leads as the city with the largest water tariff increase in 2018, with a 390% increase in water price and wastewater services.
The report, called "The Global Value of Water", presents the changes in the price of urban water and wastewater in 512 cities in 191 countries. The increase in Cape Town's tariff aims to punish households that use more than 6m3/month, due to decrease in water levels in dams to below 35%. The new prices led to a reduction in water consumption by 54%.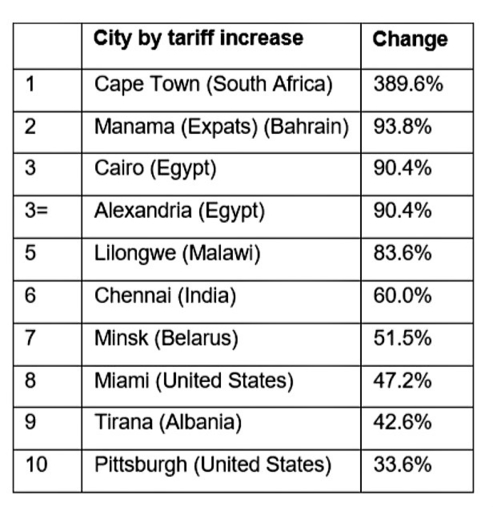 From a global perspective, average price of water and wastewater was increased by 3.8% to $2.04. Denmark is leading the table with the highest water tariff of $3.39. Overall, in North America and Europe the prices vary between $1.95 to almost $3. Italy is exceptional in Europe, where water tariff is less than a dollar. In Israel, the water tariff is $1.81. In the past few years, water prices went down in about 35% and are lower than the prices in many countries in Europe.
This days, Israel is preparing the public for the possibility of a sixth year of drought. Due to lack of rainfall, there are plans for new desalination facilities and this may cause a raise in prices.